Staff Software Engineer at Google Zurich NUI, AR, VR, HCI, wearables Follow me on Google Scholar | LinkedIn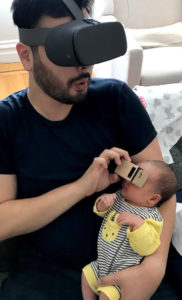 I'm a Staff Software Engineer at Google in Zurich and work on creating new ways to seamlessly interact with computing devices by combining immersive displays, sensing devices and computer graphics and vision techniques. My goal is to enable effortless and dexterous interactions using our hands and the world around us in VR and AR.
Before joining Google, I was a founding team member and Senior Technology Scientist at perceptiveIO and worked on freeform 3D interaction technology as a Researcher at Microsoft Research in Redmond and in Cambridge UK.
I hold a Ph.D. in Computing Science from Newcastle University UK and a Diplom (MSc) in Media Informatics from Ludwig-Maximilian-University (LMU) in Munich Germany.
My previous work includes Holoportation, KinectFusion, Digits, RetroDepth, FlexSense, and more.